Fujifilm Speciality Ink Systems has equipped its fleet of forklift trucks with on-board computers from In-CarPC.  Fujifilm Speciality Ink Systems produces inks and consumables for a variety of print processes, and distributes a range of class-leading wide format printer systems.  The company's manufacturing facility is based in Broadstairs in Kent and occupies 8000 square metres, with an additional 4000 square metres of finished product warehousing space.
Goods are moved around the warehouse using a fleet of around 20 forklift trucks. Before contacting In-CarPC, Fujifilm was using a rugged tablet on each forklift truck to run an in-house developed software application which tells drivers which goods need to be picked up or dropped off.
Andrew Gutteridge, from Fujifilm's IT Department, explains why In-CarPC's solution was used:
"We contacted In-CarPC because the rugged tablets we were using were unreliable and were performing poorly – mainly in not being able to reliably communicate with the warehouse-wide Wi-Fi network, but also a range of other issues including poor performance with our handheld barcode scanners.  We'd also tested an all-in-one PC but this took a long time to arrive and we didn't have much success.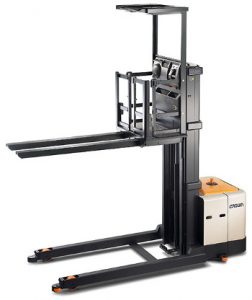 "In-CarPC sent us an evaluation system which included their CQ40 series PC, a 10" touchscreen and high-performance Wi-Fi antennas for mounting on the vehicle's roof.  Once this system was installed the difference was immediately apparent, with a marked improvement in all aspects of performance.  The forklift with In-CarPC's computer was able to roam around all areas of the warehouse without suffering connectivity drop-outs, which was not possible with the rugged tablet system.  Communication with our barcode scanner was also flawless and the overall user experience was excellent.
"It was therefore an easy decision to roll-out In-CarPC's solution across all our forklift trucks.  The system has been very well received by all concerned, and we are very happy with In-CarPC's service.  One of our forklift trucks regularly operates outside, and the fact that In-CarPC was able to supply a waterproof display for this vehicle, whilst keeping the core PC identical to the rest of the fleet, made deployment very easy and will simplify ongoing management of the forklift IT solution.
"I would have no hesitation in recommending In-CarPC to other organisations who need a reliable in-vehicle computer solution."